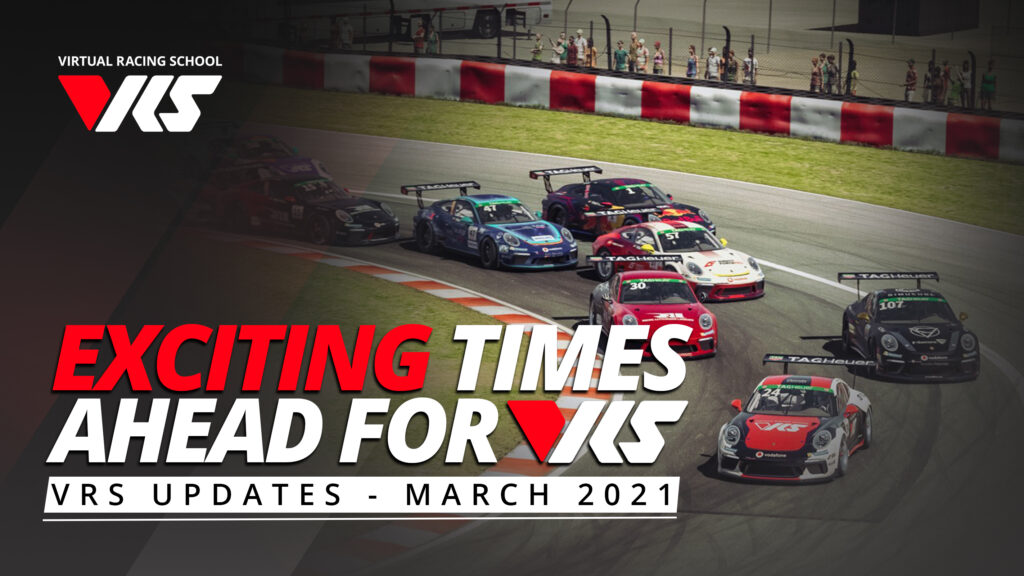 We are already in March of 2021 and it's time for us to look back at a busy start of the year, and also update you on what's coming in the next few months.
As announced recently, we are pleased to partner with one of the world-leading simracing teams, Altus Esports. Established in 2018, Altus has quickly grown and become one of the forces of the simracing scene, on road racing but also on dirt oval racing, and is now expanding its horizon on oval as well. Altus is also the home of two well-known VRS coaches, dirt oval ace Tim Ryan and open-wheeler expert Julian Dunne. This partnership will help VRS strengthen its brand and open up new opportunities for all of its products and services.
On the hardware front, we scaled the VRS DirectForce Pro Wheel Base production and we have been able to meet the increasing demand since last fall. Our Australian distribution and demo room are coming soon, ensuring Australian customers can get the DFP at the best price and with the shortest delays possible.
We also know a lot of you are expecting the VRS DirectForce Pro Pedals, and we cannot wait to release them. We will announce the pricing and start accepting reservations before the end of this month (March 2021). Existing VRS DirectForce Pro Wheel Base owners will be getting priority for the initial batches. That means that Wheel Base owners will be invited to place an order before new VRS DirectForce Pro customers. We expect to fully scale production and to remove reservations by the end of summer 2021.
Finally, we're also working on a steering wheel for the VRS DirectForce Pro Wheel Base, with the same goal as for our other products: provide top-notch quality equipment at the best price. Our design is functional, modern and with everything people need on a wheel. We'll battle test the first prototypes with drivers at the Coanda team house. We'll share more details in the next few months.
On the Data Packs front, Season 2 2021 shouldn't be much different from Season 1. With that being said, we still have some updates for you as we will provide a Road To Pro Data Pack on the oval side, covered by none other than Keegan Leahy. We also have some minor coverage changes that we have listed below. 
We are also pleased to welcome Salva Talens as a Coach, working on datapacks for the Apex Racing Academy. Salva is part of MSI eSports and also one of the drivers in the Porsche Esports Supercup. He will bring his knowledge and experience to the team and with GTEs, having recently finished P2 in the last race of the very competitive BMW Sim GT Cup.
On the website, we've worked hard to improve the overall experience for users. As a consequence, we've revamped the Data Packs page to make it easier for you to find what you're looking for. As we're covering more and more series, and our Data Packs list is expanding with the additions of more Premium Data Packs, Add-ons, and content from 3rd party providers (Apex), we wanted to make sure that you could easily filter the content. That is now made possible by the addition of cards at the top of the Datapacks page. You are also still able to follow any Data Pack you'd like so that it appears at the top of the page, and you can filter even further by looking for a specific track or car.
We are looking forward to the next few months as we should be able to communicate on some important projects and news we've been working on. Stay tuned!
Summary of the datapack coverage changes:
NEW Coaches
Salva Talens for the Apex Racing Academy
NEW Datapacks
Road:
McLaren 570s GT4 (in IMSA Michelin Pilot Challenge) will be covered by

Josh Rogers
Oval:
Road to Pro – Part 1 will be covered by

Keegan Leahy
EXISTING Datapacks
Road:
IMSA – Corvette C8R GTE will be covered by

Johnny Guindi

(previously Sindre Setsaas)

ESS – Ferrari 488 GTE will be covered by

Sindre Setsaas

(previously Johnny Guindi)

Touring Car Challenge will be covered by

Carl Jansson

(previously Jarrad Fillsell)
Apex Racing Academy
Road – Apex Academy GTE add-on ($4.99 / €4.99):
Porsche 911 RSR GTE (in both IMSA and ESS) will be covered by Salva Talens (previously Kevin Ellis Jr.)