As we're heading towards the last season of 2020 on iRacing, the entire team at VRS has been working tirelessly on all fronts: the hardware with the release of the Directforce Pro and the upcoming pedals, and the software/website, to make sure that we keep helping you in your development journey!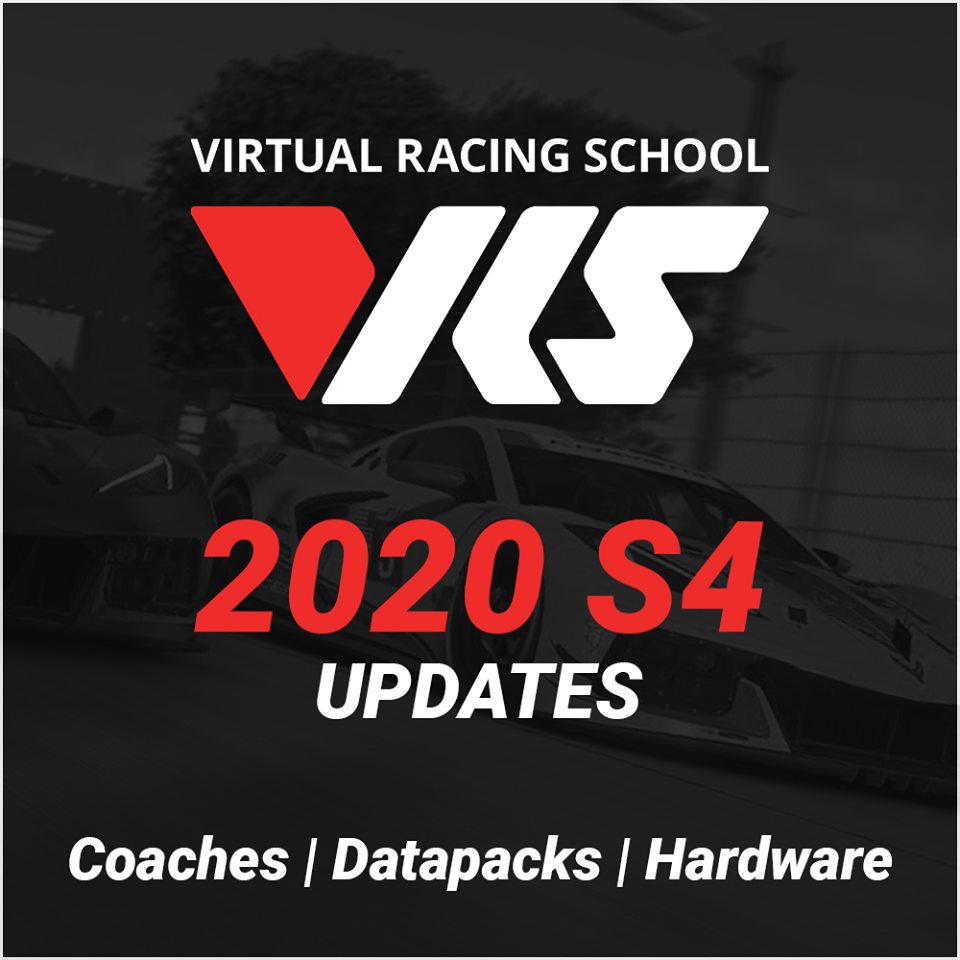 As the summer break is now over for most of us, we would like to share everything that's coming in the next few weeks.
We are welcoming the Williams eSports organization to VRS, with several of their drivers joining as coaches. With these new coaches we now offer 1:1 coaching for Assetto Corsa, rFactor 2, Raceroom, F1 2020 and GT Sport! Williams is a well-known name in the Motorsport industry, and has established itself as a strong force in the simracing world for the past couple of years. With representatives in all main simracing platforms, and strong drivers across the board, it is a pleasure to partner with them and welcome their drivers as coaches on VRS! You can find the list of Williams eSports coaches here
We are also welcoming new coaches who are renowned on the iRacing platform such as Alejandro Sanchez – recent winner in the Porsche TAG Heuer Esports Supercup, and Dayne Warren who is also one of the strong forces in this series.
On the Datapack front, we will cover the new LMP2 in both ILMS and IMSA (meaning a come-back for the IMSA Prototype division on VRS), as well as the new Corvette C8-R GTE. We will also cover the new series coming to iRacing, that is to say the Touring Car Challenge, with Jarrad Filsell, and the Ferrari GT3 Challenge, with Pablo Lopez.
Finally, we're also excited to have the iRacing Grand Prix Series datapack make a comeback to VRS as an add-on, at the price of $3,99 / 3,99€ per month. With the revamped physics and the new tire compounds coming to this season, the series is getting renewed interest. Covering some series as "Add-on" Datapacks allows us to meet requests for less-popular iRacing series which we couldn't cover otherwise, while still putting in the time and resources required to produce quality content. We are having 3-times iRacing F1 World Champion, Martin Krönke publish weekly data on two tire compounds along with a weekly driving tutorial.
On the hardware front, the team has been working hard to scale the production of the VRS DirectForce Pro to make sure that waiting list times are getting shorter and shorter, and also that we can sell the DFP across the world. At the moment, we're aiming to clear the reservation list in October and, after having started with Europe, we successfully opened up sales in the US, as well as internationally.
We are also setting up production for the VRS Pedals and we're hoping to open sales by the end of the year.
Last but not least, the team has also been working on a button plate that you can attach to your rim in order to have the most important functions accessible on your steering wheel directly. While there's still work to be done before releasing this, we're aiming to start selling those by the end of the first half of 2021 and we will share updates on that project next year!
As you can see, a lot of exciting things are coming to VRS now, and will come in the next few months. We're looking forward to sharing this with you and we want to thank you for the support!
If you want to see all changes for the upcoming season, here is the detail below:
NEW Coaches
Dayne Warren (VRS Coanda Simsport)
Alejandro Sanchez (MSI eSports)
Williams eSports (Adam Suswillo, Alvaro Carreton, Dominik Staib, Giorgio Mangano, Josh Thompson, Alex Arana, Kuba Brzezinski, Martin Christensen, Moreno Sirica, Arthur Lehouck)
NEW Datapacks
Touring Car Challenge (Audi RS3 LMS TCR): Covered by Jarrad Filsell
Ferrari GT3 Challenge (Ferrari 488 GT3): Covered by Pablo Lopez
LMP2 in iRacing Le Mans Series and IMSA Sportscar Series (Dallara LMP2): Covered by Martin Krönke
iRacing Grand Prix Series, as an add-on (McLaren MP4-30): Covered by Martin Krönke
EXISTING Datapacks
IMSA – Audi R8 GT3: Covered by Arthur Lehouck (Josh Rogers before)
IMSA – Corvette C8R (Previously Ford GT GTE): Covered by Sindre Setsaas (Mack Bakkum before)
Le Mans Series – LMP1s: Dayne Warren (Martin Kronke before)
VRS GT Sprint – Ferrari 488 GT3: Ricardo Castro Ledo (Josh Rogers before)
IMSA Michelin Pilot Challenge – Audi RS3 TCR: Carl Jansson (Jarrad Filsell before)
Formula Renault 3.5: Julian Dunne (Martin Kronke before)
Fanatec Global Challenge – Cadillac CTSV-R: Ricardo Castro Ledo (Jake Burton before)
RUF GT3 Challenge: RUF RT12R Track: David Williams (Jake Burton before)
Production Challenge – Mazda MX-5 Cup: Madison Down (David Williams before)
DISCONTINUED Datapacks
Production Challenge – Pontiac Solstice (by Madison Down) due to low usage
Hardware
Wheel base sales open in US, EU and export to some international countries. Expecting to clear the reservation list (all destinations) by October.
Setting up production for the pedals, hoping to open sales before the end of the year.
Active development in the button plate. Aiming to launch that in the first half of next year.
Website
Improved general intuitiveness of UI (e.g. Datapack track images link to the next page)
Changed menu behavior to be visible by default on the home page
Fixed some bugs with the VRS Telemetry Logger to improve stability
General bug fixes