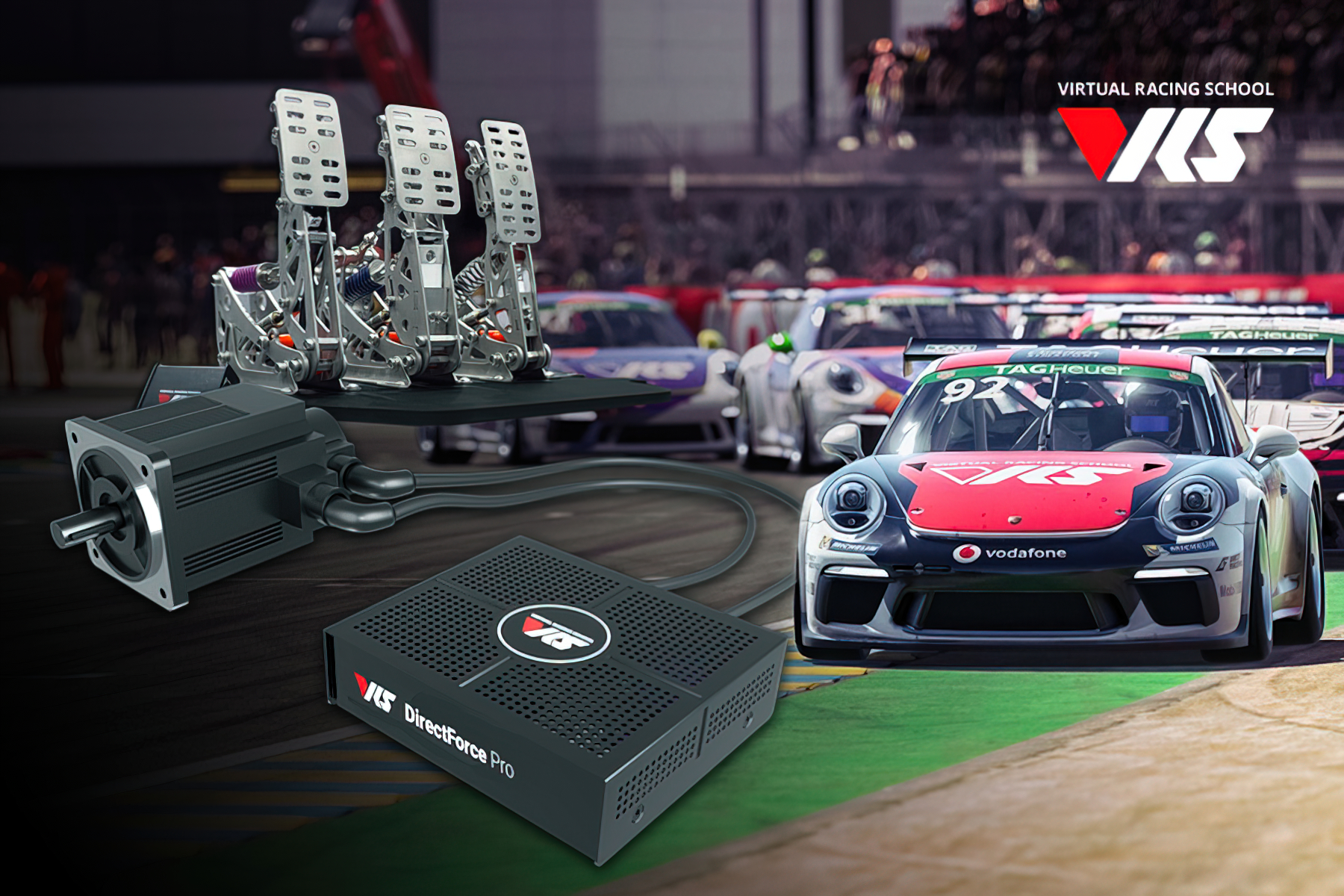 Summer is approaching, and it's about time we look back at what happened so far this year and what is yet to come in the second half of the year at VRS!
A lot has happened on the hardware front in the last few months. We are happy to announce we've started shipping our first VRS DirectForce Pro Pedals and we are scaling production so that anyone who orders them can get them as soon as possible. We expect production to be fully ready by the end of summer. Also, we just released software to help you calibrate and configure your pedals with dead zones, force curves and profiles. For more information, head to our Discord, in the #pedals channel. Click on the following link if you want to join our Discord server: https://discord.gg/rg7EMn5
We now have our own distribution for the DirectForce Pro in Australia, which means that customers down under can now buy our hardware products without having to worry about paying extra for import taxes, customs fees, or high shipping costs. 
Finally, we are currently building the first fully functional prototypes of the VRS DirectForce Pro steering wheel. The VRS coaches at the Coanda Team House will get them in about a month and will start teasing the steering wheel on stream.
We are also working hard to develop a datapack setup sync tool to make things easier for all users when it comes to getting weekly car setups. We know the process of going to the website and to the relevant datapack every week can be repetitive. Our sync app will automatically download the setups for the car & track you just loaded in the sim and will place them in the correct iRacing setup folder. This tool is still in beta and if you want to help us test it,  just join our VRS Discord server and find a link in #sync-app. Click on the following link if you want to join our Discord server: https://discord.gg/rg7EMn5
On the datapacks front, there will be some additions in Season 3 following the recent iRacing announcements. We will provide coverage for some of the new series coming to the service, including the Formula Vee, coming as a free car in the Rookie series, and the very much awaited Porsche 911 GT3R, in both the VRS GT Sprint and IMSA series. Jake Burton, who also has experience in the real car, will cover the Formula Vee, while Mack Bakkum and Josh Rogers will respectively take care of the Porsche 911 GT3R. We also have a few changes of coverage that we have detailed at the bottom of this article.
We are looking forward to the next few months as we should be able to communicate on some important projects and news we've been working on. Stay tuned!
Summary of the datapack coverage changes:
NEW Datapacks
Road:
Porsche 911 GT3 R in VRS GT Sprint Series will be covered by

Mack Bakkum

Porsche 911 GT3 R in IMSA Hagerty will be covered

by Josh Rogers

BMW M8 GTE in European Sprint Series will be covered

by Moreno Sirica

Fixed F3 – Dallara F3 will be covered

by Julian Dunne

LM2 Prototype Challenge Fixed – Dallara P217 will be covered

by Tommy Ostgaard

Formula Vee Fixed will be covered

by David Williams
Dirt Road:
iRX VW Bettle Lite Rookie will be covered by

Mitchell deJong
Dirt Oval:
WoO Fixed Sprint Car – Dirt 410 will be covered by

Tim Ryan
Apex Racing Academy
Porsche 911 GT3 R will be covered by:
Alejandro Sanchez

in VRS GT

Salva Talens

in IMSA Hagerty
EXISTING Datapacks
Road:
IMSA – Ferrari 488 GTE will be covered by

Carl Jansson

(previously Mack Bakkum)

VRS Sprint – Audi R8 will be covered by

Sindre Setsaas

(previously Josh Rogers)

Simlab Production Challenge – Mazda MX5 Cup will be covered by

David Williams

(previously Madison Down)
Dirt Oval:
WoO Late Model Series Fixed – Dirt Late Model Super will be covered by

JD Brown

(previously Tim Ryan)