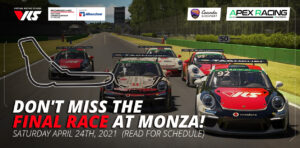 The 2021 Porsche TAG Heuer Esports Supercup is about to finish at the iconic Autodromo Nazionale Monza (iRacing), and if you thought the drama was over because Josh Rogers has already clinched the championship, think again. VRS coach and Coanda Simsport driver Mitchell DeJong is in a heated battle with Red Bull Racing Esports star Sebastian Job for 2nd place.  DeJong leads Job by only 12 points, so the pressure is on both of them to be mistake-free.
And, if either of them has a major setback, Apex Racing Team's Kevin Ellis Jr., Dayne Warren, and Coanda rookie sensation Charlie Collins are only about 50 points behind and within striking distance. So, expect some aggressive driving by the top 10 drivers.
Further down the standings, there is also going to be some furious competition you'll want to look out for. Since the top 20 finishers in the overall championship get an automatic entry into next year's competition, the battle for 20th is going to be just as serious as trying to get on the podium.  Coanda's David Williams is only 8 points behind Moreno Sirica sitting in 20th place.  Sindre Setsaas is in 19th with a comfortable lead, but if Sirica and Williams have strong finishes, they could pass him and secure a birth in next year's Supercup.  And, at Monza, anything can happen with the tight chicanes and unsettling curbs.
Whatever happens on Saturday, VRS coach and Coanda Simsport's standout Josh Rogers will be crowned champion for the 2nd time in three years. The big question remaining is whether his teammate Mitchell DeJong will join him as runner-up or will Sebastian Job come through.  Or, will one of the long-shots grab a spot on the podium?  To find out, tune in to the VRS Twitch channel where you could win a VRS DirectForce Pro (3) Pedal set that Josh Rogers and Mitchell DeJong have been using the entire series by going to the sign-up page here and following the channel.  https://virtualracingschool.com/vrs-directforce-pro-3-pedal-set-giveaway/
You can catch the action on the VRS twitch channel here:  https://twitch.tv/virtualracingschool/
You also might want to watch on Apex Racing TV here: https://www.twitch.tv/apexracingtv/
The schedule (all times CEST) Saturday, 24 April 2021:
6:35 – 6:45 pm: Qualifying All-Stars
6:45 – 7:00 pm: Sprint race All-Stars
7:05 – 7:10 pm: Warm-up All-Stars
7:10 – 7:30 pm: Main race All-Stars
7:45 – 8:03 pm: Free practice PESC
8:03 – 8:15 pm: Qualifying PESC
8:15 – 8:32 pm: Sprint race PESC
8:34 – 8:44 pm: Warm-up PESC
8:45 – 9:15 pm: Main race PESC