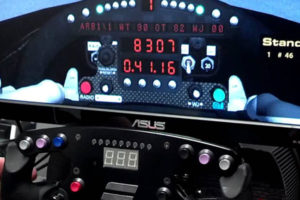 In the following series of blog posts we're trying to shed some light on the various hardware parts you need to have or – for some parts – should have. To make the chunks of information a little smaller and easier to digest, this is split into the multiple posts. See also 'the PC & screens', and 'steering wheel, pedals & rig'.
In the first part, we've covered the PC with its CPU, RAM, graphics card and motherboard, and monitors. In the second part, we covered the steering wheel, pedals and the rig to keep everything together as you race.
We'd like to offer some high level advice when it comes to hardware:
If you are just getting started with simracing and iRacing, don't invest a ton of money initially. You may realize a few months later that simracing is not really for you. Try to get used hardware, perhaps a complete setup (wheel, pedals, rig/gaming cockpit). Checkout the hardware iRacing forum and check the regional club forums (e.g. California Club iRacing forums is you are based in California).
Choose value for money. If you're not into DIY, choose performance combined with no hassle.
At a very minimum, get a used Logitech G25, G27 or G29, optionally with a load cell mod.
If you cannot afford triple screen (which requires a more powerful graphics card as well), at least try to get an extra-wide monitor.
If you are really serious about simracing, and can afford it, a high-end complete setup would cost you at least $5-10K. Opt for 27″ triple screens, current or past generation i5 or i7 CPU, 16BG RAM, overclockable mother board, beefy GPU (such as the GTX 1080), direct drive wheel, HE Ultimate Pedals, aluminum extrusion rig with a real racing seat.
Ultimately, if you have questions or want a coach to help you pick the right config for you, this is also where our coaches are experts in. Inside VRS' software, you can request a Q&A session to ask all your hardware related questions.
Otherwise, good luck googling and putting together a list that matches your budget, your expectations and perhaps most importantly: your room.