It's now around one and a half years since our BETA launch, and we've got a lot of improvements to report in this summer update.
Launched paid subscriptions
Back in February we announced that our datapacks are coming out of beta, then a month later our paid subscription tiers came in effect. We're pleased to so see minimal churn at the transition and steady users and subscriptions growth since. Special thanks to all of you who are are supporting us with a paid subscription: you are enabling us to continue to improve and grow the VRS platform!
New VRS coaches
The ranks of the VRS Coaches grew with the addition of top simracers from France and Australia:
Madison Down: WCS Driver for TTLR in the Blancpain GT Series, and driver for Trans Tasman Racing in the V8SCOPS. Nine-time V8 Supercar champion on iRacing.

Jake Burton: WCS Driver for TTLR in the Blancpain GT Series, and driver for Trans Tasman Racing in the V8SCOPS.

Jarrad Filsell: WCS Driver for TTLR in the Blancpain GT Series, and driver for Trans Tasman Racing in the V8SCOPS.

Jeremy Bouteloup: WCS driver for Coanda Simsport in Blancpain GT Series.

New datapacks
We now offer a total of 31 datapacks. We have quite a few new additions for Season 3:
Advanced Mazda MX-5 Cup by Jarrad Filsell
Chevrolet C7 Daytona Prototype (IMSA) by Jake Burton
Dallara DW12 (Indy Fixed Oval) by Christian Steele
Ferrari 488 GTE (IMSA) by Rens Broekman
Ford GTE (IMSA) by Jeremy Bouteloup
German GT3s / IMSA by Rens Broekman & David Williams
Spec Racer Ford by Jake Burton
V8 Supercars (both iRacing V8S & V8SCOPS) by Madison Down
We frequently get requests for datapacks for special events. We cannot make a datapack for each and every special event (if you really want help, you can always request personal coaching), but we will prepare datapacks for the most popular events and cars.
New driver development classes / group classes
During 2017's season 2 we kicked off the Positive SimRacing Driver Development Programme. Interest was so strong that we decided to open a pilot group coaching program for drivers who didn't make the initial selection. We've learned from this pilot and received positive feedback and in 2017's season 3, we started several driver development classes using the group coaching format. We currently have Driving Style classes for the MX-5, FR2.0, Porsche, GTE's and V8's. We are also preparing curriculum for Racecraft and Car Setup classes. Last but not least, we'll be adding weekday evening classes for folks in various timezones. For the latest class schedule, take a look here.
Software improvements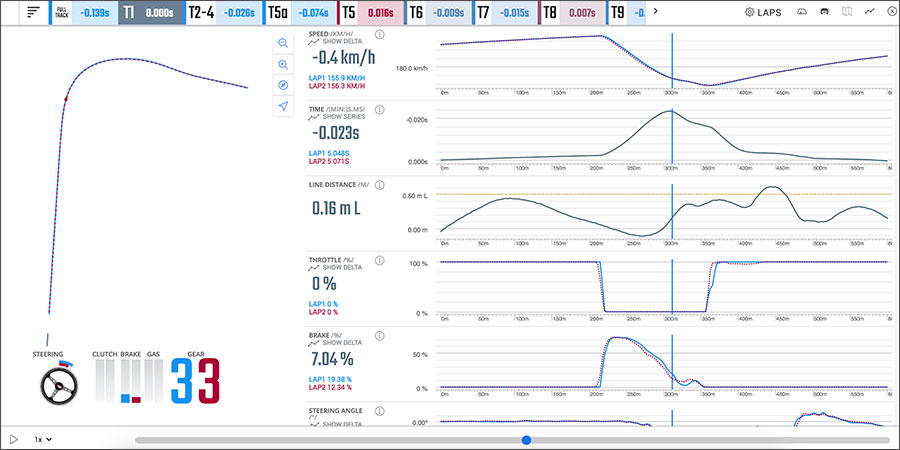 Sectors
We introduced new track sector definitions. Our old algorithm works quite well most of the time, but not always. It also had the downside that the numbering of the sectors didn't match the official track corner numbering. We can now define the track sectors definition for each track layout. The new sectors follow the official corner numbering and combine series of turns, when these turns need to be analyzed together. For example, you may see a sector S0 (for the start straight), followed by T1-2 (for turns 1 & 2), followed by T3-5 (for turns 3 through 5), followed by S5 (straight after turn 5), etc. Over time we'll add sector definitions for all track layouts. If you notice that the new definition is missing for a track, or if you notice bugs, or if you think that the grouping of turns is not appropriate, drop us a line and we'll fix it!
Driving stats
We now keep track of your driving stats per iRacing season, so you can see how much you drove any given car and track this season. This makes it easier to keep track of your recent practice time.
Browser history now 'works' and you can navigate back and forth within the VRS web app. If you want to share your selection in the analyzer, just copy and paste the link in your browser URL.
Servers
We've improved our server efficiency and performance, and optimized our backend, which reduced latency as much as 10x, resulting in a much snappier page loads for most users. (A side effect of this is that we've reduced our server cost by 60%, which helps towards building a sustainable business.)
And a lot more small improvements and bug fixes. Stay tuned for a revamped (and hopefully smarter) members home page and more!