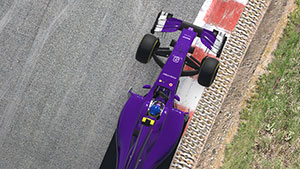 As you progress through your iRacing career, competition is fiercer and you'll need to use all the tools in the box to find the edge over your rivals. One of these tools is car setup. And while most beginner series have friendly communities with lots of setups being shared on the forums, the willingness to share setups significantly drops off at more competitive series. Especially at the top level of sim racing, setups are seen as highly guarded intellectual property. Thus, having a basic understanding of car setups becomes a very useful asset in your sim racing career.
But before you start, here are few questions you should answer to ascertain whether diving into setups is the best use of your time:
Are you willing to study and learn how to create a setup from scratch?


This is not an "if this, then that" kind of guide. Setting up a car is about trade-offs within the limits of physics. Gaining proficiency in car setup is a process that requires you to experiment and analyze a lot.

Are you able to consistently hit lap times within 0.2s of your fastest lap?


If not, then your biggest gains might not come from setups. In road racing, if you're 3 seconds off the pace on a road track, probably only 0.3s is down to the setup. In oval racing, it's much easier to learn the tracks, so car setup is a quite significant factor in open setup series.

Can you tell whether time loss was due to car or driver?
You should be able to distinguish driver errors causing understeer, from a car setup change causing understeer. This means you should already be a driver capable of in-the-moment driving analysis.
Have you fully developed your driving style?


Especially in road racing, driving style is typically a much more significant factor in lap times than car setup. Unless you are within 0.2-0.5s of your fastest teammate, or a VRS datapack, you are probably better off working on your driving style. On the flip side, if you have deeply ingrained old bad driving habits, it may be more efficient for you to tune the setup to your driving style. But still, we'd recommend that you try fixing your driving style first.

Are you used to driving the car which you want to setup?


If you hop in a new car, it usually takes a bit of time getting used to it first. Pick up a decent setup (from the forums or a VRS datapack) first and focus on driving style until you are able to turn competitive lap times in the chosen setup.  
If you can answer all these questions with a definitive yes, then this guide is for you.
We'll get started with the basics that apply to any car and we'll progress to more advanced setup topics, which are only applicable to high-end cars. We'll start with the Skip Barber RT2000, as it is the first open-setup car for most road racers, and also a car that's understandable and sensitive enough to observe setup differences with. Then we'll move on to the Formula Renault 2.0 which offers a lot more setup options. Also, the trade-offs between different adjustments become quite interesting in the FR2.0. Finally, we'll look at a high-end, high-downforce car in the HPD ARX-01c.
Ready to get started? Head on to 5.2 where we focus on tyres.