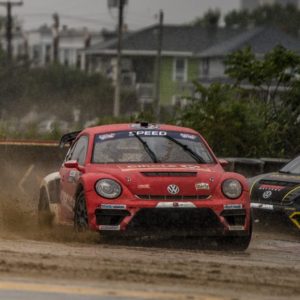 He has driven in British Formula 3, GP2, A1 Grand Prix, NASCAR Craftsman Truck Series, NASCAR Sprint Cup Series, Formula E and Formula One, and he's now driving for the Volkswagen Andretti Rallycross team as a three-time Global Rallycross champion. His career consists of successes in nearly all forms of motor racing, be it on ovals or road, powered by petrol or electricity. Hence, it's a great honour for us to sit down for a chat with Scott Speed.
Scott, first thing; you've raced in so many series and you've achieved success everywhere. What makes you such as versatile driver?
I don't know, I think I'm a good driver. And the versatile aspect of my racing has more to do with my desire to try new things and the opportunities I got to try out lots of different types of race categories. But I think a driver who is very good, given the opportunities I had, would be just as successful.
But surely there's the aspect of adaptability you are really good at?
Yes, but that's something all the best drivers have — they're good because they can adapt. That's what racing is all about. I mean, tracks are always changing, cars are always changing — and drivers really have to learn how a particular car wants to be driven. That's the key to being the best. You can obviously change a car to fit the driver, but at the highest level, your goal as a driver is to figure out how a car wants to be driven to go at its fastest. That requires adaptability.
Is this why you're so successful in Global Rallycross? I mean, it's a kind of combined form of racing.
Yes. I think I got lucky that my natural driving style fits very well in rallycross, apart from making one adjustment to driving on gravel. You know — when a rallycross car goes from tarmac onto gravel, to me it feels like it's entering a whole different law of physics. Suddenly the car wants to be driven differently, and I had to adapt to that, and I was able to. Without that, you're not going to be successful in rallycross. You really need to be able to drive very different styles to be fast overall.
So are there drivers that are only really fast on tarmac or gravel but not both?
Exactly.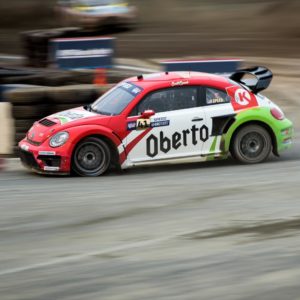 So what makes driving on gravel so different. Is it that sliding is suddenly acceptable?
No, all the general principles of racing still apply, and sliding isn't optimal. If you're going sideways, you're not going forward. That said, rallycross uses four wheel drive, and that presents a different aspect of motor racing, and you can slide a little bit more than "normal" on road.
Another thing is that a rallycross car brakes really well and it accelerates really well, but it just doesn't corner really well. So you want to shorten the corner, and extend the braking zones and straights. So as a rule of thumb, you want to get the car to come off the corner a little narrower than normal, because it likes to go on throttle straight. So it's a more 'point and shoot' kind of driving style.
What level of car contact is acceptable and "normal" in rallycross? Is rubbing doors OK?
Well, because of the 4WD nature of the cars, the racing is really tight and they run door-to-door really well. It's a category that has to got a bit of contact. But obviously, if you hit someone out of the way to pass, they are going to hit you back or you're going to get a penalty. So in the end of the day, racers govern themselves. Everybody has a reputation, and you are not going to have a good championship if other drivers don't like you or don't respect you. You know, eventually they're gonna hit you back.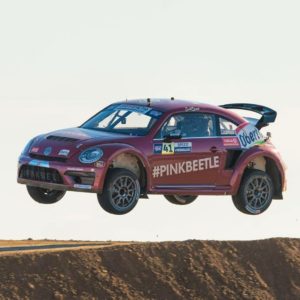 And then there's the flying — is that how you think motorsport should be?
Well, motorsport needs to be entertaining, that's the bottom line. So in the United States, nobody watches F1. People watch NASCAR, but that's on a pretty steep decline right now, because it's hard to pay attention a full four-hour race. Times are changing in motorsports, also with the introduction of electric racing. Within the next five years we'll see a major shift in motorsports worldwide, as manufacturers start to develop electric cars and want to move into that direction.
Global Rallycross seems to be the motorsport with youngest demographic because it has short and exciting races. And it also seems to be the form of racing to which electric racing applies really well. With short races, lots of acceleration and deceleration, it fits really well. It's much harder to make an electric car for Formula E, for example. It requires so much energy and batteries to run a formula car around for an hour. Whereas Global Rallycross events are roughly twenty minutes.
What was your role in iRacing's Global Rallycross project?
My race engineer Graham Quinn and myself, we'd both drive the car in the sim and comment back and forth on what we thought. Graham from a technical perspective, me from a driving perspective. And we aimed to get everything as realistic as possible, driving on the gravel, the jump, basically the whole feeling. Graham used real-life data and lap times to match the car as well, so now especially around the Indy circuit it now matches up exactly.
iRacing has really hit it on the head as far as how the car feels and how you have to drive it. You notice right away that the car handles very differently on tarmac and gravel. You've to do very different things to it. It's great that I can now show my family, my friends how a rallycross car drives, it's very unique.
So now you can finally drive the competitor's car? Can you tell the differences?
Well I don't know how close the Fiesta feels to the real thing, I've never driven one. But ours, the Volkswagen Beetle, is really close. The Fiesta stops and accelerates really well. Point and shoot really, but it understeers on cornering a bit. Ours rolls into the corner a bit better, it behaves more like a sportscar so to say.
Do you think VRS will be a useful tool for Rallycross iRacers?
I really enjoy VRS. The fact that my real-life racing engineer is also my simracing partner is really fun, and Graham is quite fast in the sim. My whole life I've looked at telemetry data, but Graham has always worked with it. Between the two of us, we can really use VRS to a pretty big advantage between ourselves. It's a real fun thing to do during the week. I just flew to Las Vegas for SEMA, and sent about three-hundred messages in our little iRacing team's WhatsApp group, back and forth about the data and the car.
As for rallycross, I think it'll be a big tool. Telemetry is so useful, especially for the wheel spin, it's important to limit that. You can't really see wheel spin from inside or outside the car, but the VRS software will make it visible what you're doing with the pedals and what's happening with the wheels. So it'll fast-track a lot of people to get on pace with limiting that.
So wheel spin is more driver input or setup?
Driver input, for sure.
Then, how important is car setup for a rallycross car?
It's very important. And because it's a 4WD car, the setup relies heavily on the differentials, so making them work is key. But outside of the differentials, nothing is as important really.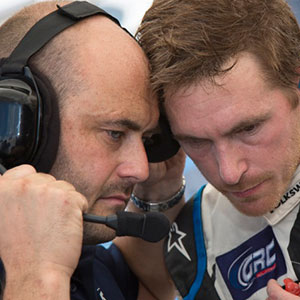 What's it like to finally share your car with your engineer?
Graham has never driven the car in real-life, but the funny thing is that in the sim he'd comment on things he thought were unrealistic. And I'd say 'No no, that's exactly as it is in real life!', and Graham would be hiding his face, 'oh no!'. When I was back in the real car, I'd ask 'Hey Graham, that big understeer you got in the sim, can you fix it now?'.
Graham is actually quite fast in the sim. We're doing the Blancpain Endurance Championship, and we have fun doing it. It's a very unique relationship, as he has been my engineer for the past three-and-a-half year. It's just a really important relationship, and iRacing is a fun part of it.
Does it surprise you that the iRacing competition is so fierce?
Not really. Like anything, if you do something long enough, practice long enough, you'll be good at it. And there are just lots of really good drivers out there.
Does iRacing relate well to real life racing?
Yes. If you can drive a car really well in a simulator, your brain is doing the same as in real life. You're figuring out braking markers, braking pressures, limiting wheelspin, apexes, nothing different than real life, except maybe fear, adrenaline, nerves, etcetera.
For whatever reason, I've always been good at being able to control the emotion side of things. And my nerves never had effect on my decision making in a real race car. But I think part of it is also preparation. Whether it is iRacing, or any video game, or racing an RC car, I spend a lot of my day competing, with myself or someone else. My brain is very used to high levels of competition and high levels of stress. My whole life I've been putting myself in that kind of environment, and so when I get into a race car, I'm very relaxed.
So it's professional fun?
Definitely. Lately I've been spending a lot of time on a bicycle, and I enjoy trying to race that. Relatively it's the same thing as car racing, the differences are, that the food I eat is the fuel and my body is the engine. It's not just about tuning the bike and making it lighter, it's how I train and how well I sleep, all of that is my horsepower. And I really enjoy that aspect.
Then there's also RC racing. I've just built a car and a racetrack, we race there quite often (Speed RC Raceway). Kinda like iRacing with real life physics. I think it still helps reflexes, concentration ability, eyesight. In this way the brain is no different than a muscle and I like to keep practicing it.
Thanks Scott!