Multiple iRacing V8 Supercar champion Madison Down is a twenty-three year old driver for Trans Tasman Racing, a VRS coach, and when he's not racing he's likely working a as a retail manager at Supercheap Auto (the brand which you may know from the barriers at the Bathurst Esses). We catch up with him.
So how did you get into simracing, iRacing and Trans Tasman Racing?
My dad was a hobby sim racer back in the nineties, and got me started on games such as Need for Speed and the Geoff Crammond's Grand Prix. From there I moved to consoles and eventually found online racing on Gran Turismo 5 Prologue competing in competitions on GTPlanet. This is where Trans Tasman Racing begun. It was originally a bunch of mates that just enjoyed clean racing together, which is hard to find on consoles. From there, we moved to rFactor on PC and began league racing in a competition called Adrenalin Factor. As iRacing began to add more Australian content, we moved to iRacing in 2010, which is where we still race. Even though many team members have come and gone over the years, Trans Tasman's core values are still held by the drivers today and the cool thing is that we still have retained some original members like myself, Tony Autridge and Michael Healey.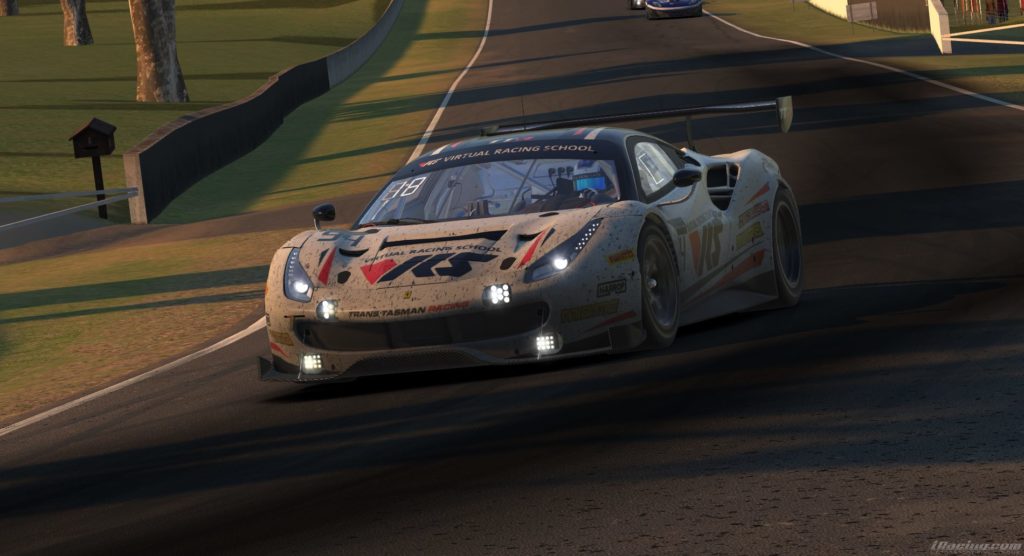 Okay, so you won ten top tier titles in the V8 Supercars. It's astonishing, but it also begs the question; how? And why? You never thought, 'Okay, now's enough'?
From 2010 to 2017, I have basically only drove the V8 Supercar on iRacing. My first title was 2011 Season 2 and from there I had a very successful run all the way until my 9th official series title in 2014 Season 1. I really enjoyed the racing in the V8 and none of the titles were ever easy to win. The competition was also close and every win had to be earned, and that's what kept me coming back. I did take 2012 Season 1 off in that period to rejuvinate my motivation as racing forty-eight weeks a year at a top level can really take its toll. It's tough to turn around week in week out, and develop a setup and practice to win races. As I said, it was never a simple cruise to victory, it was always tough. In 2015 the V8 Supercars Online Premier Series was developed has now taken the role as the undisputed top tier series in Australia. Since the series has started, I've been lucky enough to never finish outside the top two and to actually win the title in 2016, despite only winning a single race. The competition is stronger than ever and that desire to win is still certainly there!
Outside of the V8 Supercar, I had a short stint a few times in Formula 1 to try and go for the Pro series in 2011 and 2012, but the time zone difference complicated it for me. The SOF races were at 3:15 AM on Monday mornings. But in the last few years we as a team have also competed in the Blancpain GT Series, which has been a nice new challenge! The first year we finished eighth in the championship, last year we had a shocker and only just re-qualified being just inside the top twenty-five. But in 2018 we'd certainly like to have more of a focus on the Blancpain GT Series as a team and really take it to the big boys as an 'underdog Aussie team'.
So what do you love about V8 supercars? Compared to let's say open wheelers?
I love tin tops! For me, touring cars or GT cars are more enjoyable to race. Open wheelers are certainly great fun to hotlap and really push the limits, but I find them less enjoyable to race. A lot less passing and less tyre wear, it's pretty much fully down to pit strategy. Whereas tin tops you race door to door, and you don't have to worry about aero push when following. You often drive so close to each other, you bump, rub panels, slide, pass easily. They are just so much more enjoyable to race. Heavy car, high centre of gravity, not much aero and 650hp+ to the rear wheels. They are certainly a handful to drive but that's what makes the racing so great. Being from Australia is also a big factor, it is the biggest form of Motorsport down under by a distant margin. When you talk about motorsport here, you talk Supercars!
What are the biggest physical differences between open wheel and closed wheel racing?
The aero. Closed wheel racing you can follow other cars closely and generally speaking it makes the racing more interesting. In open wheel cars, it's tough to follow and you also need to be super accurate when it comes to overtaking. Any slight contact and your race is over. For me the closed wheel racing is more enjoyable for those reasons. I also enjoy the tyre wear aspect, Supercars really burn up the tyres and as a result the strategy in races is super important. When someone comes out on five lap newer tyres than you, the pace difference is huge and often creates grandstand finish situations!
Are V8 cars more dependent on setups?
I would say most of the time found in V8 Supercars comes down to driving technique. Setup is still important, but it will only find you the last five tenths per lap or so. They are certainly less sensitive than open wheelers, but any time you are competing in a top level series, setup is often the difference between winning and losing. The V8 is a weird car because you can get the setup decent, but it's hard to get it perfect. The setup window is extremely narrow and you can be so close to that window and not even know it! It is certainly very frustrating. As a team, we actually find GT3 cars easier to setup than the V8 Supercar in fact despite the added effects of aero.
What do you look for most with V8 supercars in terms of telemetry?
From a driving perspective, you look for smoothness. You need to be super smooth with your pedals inputs and steering inputs. You need to focus on what the strengths of the car are, it is good under brakes and talented in the straight bits. So you want to spend as little time cornering as possible, so what you'll find in telemetry is that you will often carry low mid corner speed so you can straighten your exits to lengthen the straights. The other main thing I look for is to make sure you don't 'paddle' the throttle, only apply the throttle once, don't come back off it. It should be a nice smooth 45 degree angle line from 0 to 100% throttle.
From a setup perspective, we only really focus on shock and damper setup. We try to make sure that we have even percentages in the damper histograms. Having the shock setup correct makes quite a big difference to the ride control across bumps and kerbs which is important in this car, as you can really attack kerbs in this car.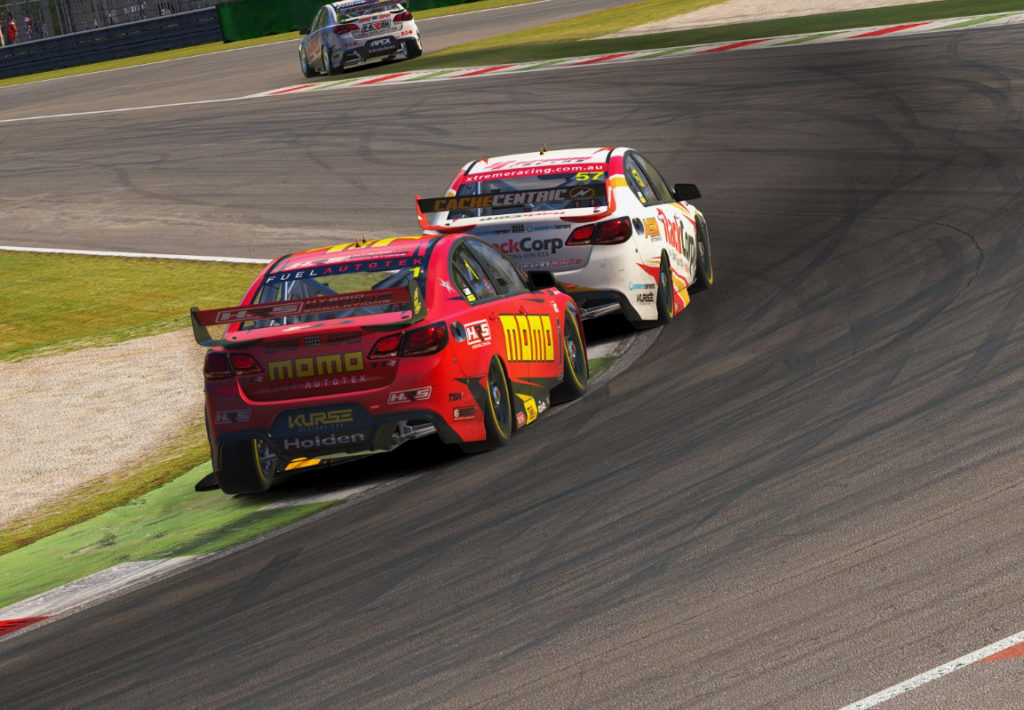 What specifics for V8 Supercars cars are covered in VRS group coach classes?
We tend to mainly focus on driving technique. So we really stress the smoothness element. Often we see that students are a bit messy with their inputs and the lines I spoke about earlier aren't smooth with both pedals and steering. This is often due to overdriving. People have the mindset that driving ten tenths at the limit is the way you are fast, not necessarily the case with the V8 Supercar. To be fast, it feels like you are driving beneath the limit. It is all about using all the track and driving smoothly and straight.
During a coaching class, we look at students data compared to the datapack (or a coach's individual data) and compare the driving lines and inputs. Through the VRS software you are able to pin point exactly where the time gains and losses occur, and then evaluate each and every problem area. The other handy feature is the driving line analysis. It makes it super easy to show and explain driving lines and why the time gain or loss occurs. It is great software to use and really simple once you know how to use it. We do run through it with students using a screen share software so that they can also see exactly how the software works and learn more about telemetry analysis.
How does V8 Supercars as a series compare to F1 in Australia? What's the motorracing scene like?
V8 Supercars is our biggest motorsport series by far. Yes, Formula 1 is popular, but I would say more Australians watch the Supercars series both at the track and on TV. Australia has always been a touring car country for as long as I can remember and I don't see that changing any time soon!
Anything you look forward to in the future?
The future of eSports! Having been in the competitive scene now since 2009, the growth has been massive. When I first started I was amazed that I could race other people around the world! These days, times have changed a lot and we very much take that for granted. I would've never dreamed that eSports would have got as big as it has got in recent years. The professional streams, events, sponsorship and leagues these days are just awesome and I hope it continues to grow! I think that sim racing is now truly becoming a gateway to real motorsport, the amount of real world contacts that I now have as a result of sim racing is just amazing. Even inside of Trans Tasman Racing, we are sponsored by mainly real world sponsors like MOMO Australia, Harrop Engineering and Apex Replicas. All of these sponsors actually sponsor real world Supercars teams which from a sim racing perspective is really awesome that they are interested in eSports!
Thanks Madison!