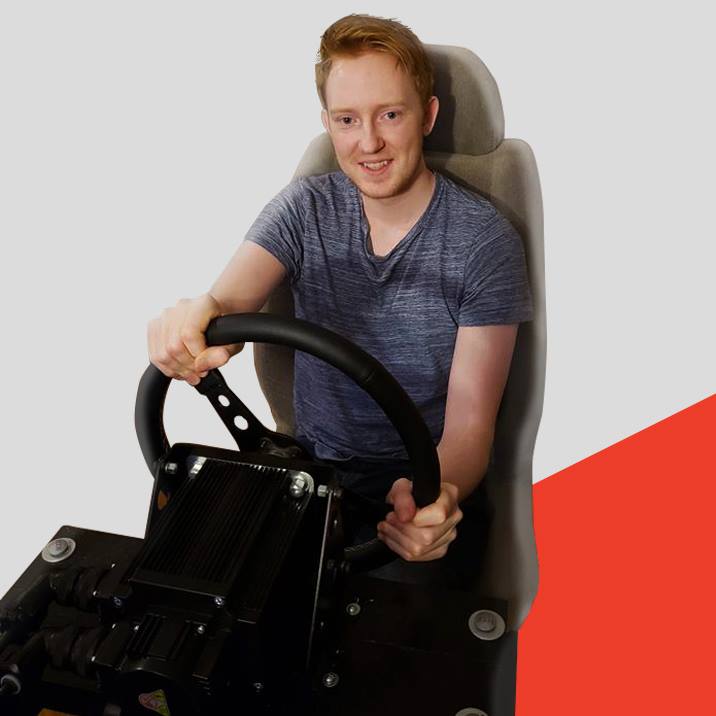 The VRS DirectForce Pro solution just feels… intuitive. The forces, the bumps, the "light" feeling when the tires lose grip… It all just feels so natural, to the point where there really wasn't much of a learning curve at all, even though it was a massive change in hardware.
Keegan joined iRacing relatively recently in 2013, but his competitive drive and focus on adaptability quickly earned him a reputation as a fast driver and strong setup builder. By 2015, Keegan was involved in iRacing's top oval series as a setup builder, crew chief, and driver coach. Keegan finished 3rd overall in the 2017 iRacing Pro series, and qualified for the 2018 NASCAR Peak Antifreeze iRacing Series. He scored his first race win in only his second career start, enroute to 3 wins in his first season and a top-8 championship playoff spot.
When I first started oval racing on a low-end wheel, I learned pretty quickly that the force feedback (FFB) on those wheels can be a bit finicky. Using a weak motor and a gear or belt system to bring up the torque loses FFB detail, introduces some lag to the system, and creates dead zones and slack in the forces. I also came to realize that a lot of oval iRacers choose to run little or even no FFB. The reasoning for this is that it's better to have little FFB and be as smooth as possible through a corner than to be able to feel where the car is losing grip through the wheel. This philosophy never worked for me since I'd rather have that extra sensory input you get from the FFB on top of auditory and visual cues, but it did always feel like the clunky FFB was a hindrance.
I got my VRS DirectForce Pro steering wheel system setup in the early days of 2019. Moving up from a low end wheel directly to the VRS direct drive wheel was a huge shock to my senses, but it didn't take long at all for me to feel comfortable driving with it. The VRS DirectForce Pro solution just feels… intuitive. The forces, the bumps, the "light" feeling when the tires lose grip all just feel so natural, to the point where there really didn't seem like there was much of a learning curve at all even though it was a massive change in hardware.
My first few times out on track with the new wheel showed me just how useful this "intuitive" feel can be. I decided to take the NASCAR Truck out on Lime Rock just to give the wheel a proper shakedown. I could immediately drive the truck extremely hard and feel confident that I could keep it under control. The extremely detailed FFB allowed me to immediately catch the slides and I could always know what the truck wanted to do. Sometimes it feels like the wheel automatically corrects my mistakes before I even know I made them, but really it's just the flow of extra information that I'm using to subconsciously keep on the track.
After only a few hours of experience on the wheel, I decided to do a 20-lap run to compare my VRS datapack for Kentucky. For those who don't know, Kentucky is absolutely the bumpiest NASCAR track on the sim, and boy did I feel it with my new wheel. After quickly adjusting the force feedback strength to make sure I could keep control of the car, I got my stint in and compared the lap times. I turned exactly the same average lap times down to the hundredth of a second. I was thrilled to be on pace so quickly and my driving has only gotten more consistent as I've gotten more experience with the wheel.
Accurate force feedback is only one part of the story. The pure smoothness and fidelity I got from this direct drive system is something I needed to experience to understand. It's such a huge upgrade over the gear and belt solutions of lower-end products because you don't lose any FFB information in the "internals", plus I get to experience completely undistorted forces since my wheel can feel anything from a tiny bump in the track all the way up to the 20Nm head on crash into a tire barrier.
The feeling of sturdiness is something I won't take for granted again. Having friends over to try my racing rig used to be very stressful because I thought they'd break my weak equipment… now I just hope my friends are the ones that can take the wear and tear from this 20Nm beast. In addition, I'm definitely noticing that my friends are finding the sim a lot more intuitive to drive with the VRS wheel since the forces they're feeling through the VRS DirectForce system bring the simulation so much closer to the reality they're used to from driving in real life. This familiarly helps them get up to speed quicker and have fun.
I'm definitely hooked on direct drive, and I can't wait to see what I can do with VRS hardware against the best of the best in the upcoming eNASCAR PEAK Antifreeze iRacing Series.
If you'd like to get updates about the VRS Hardware initiative, follow our Facebook page, or register to our hardware mailing list here.