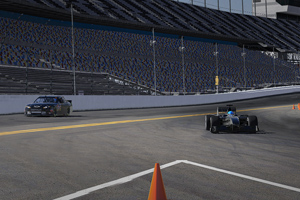 The stereotype of oval racing is that racers just turn left, full throttle, and that therefore oval racing is easy. But there's lots of skill involved in oval racing, especially with around forty cars with 725 horsepower fighting for the same piece of tarmac.
Whether you should pursue either oval or road racing (or both) is completely up to you. But here we dive into some of the differences here, as well as some of the similarities.
Differences in race procedures
In road racing, the car attempting to overtake should have its front tires up to the leading driver's side before the corner, or else the corner is considered to belong to the leading car. On ovals, having any sort of bodywork next to the leading driver is enough to challenge the leading driver into the corner. This is because racing side by side is way more common on ovals, compared to road racing, where going side by side is potentially much more detrimental to each driver's race.
Regarding pit strategy, road racing generally has very few, if any, full-course caution flag period in a race, which in turn allows the team to set one or two main strategies for the race. On ovals, because of the frequency of full-course cautions and how short the lap times are, strategies are often made on the go. Stopping for fuel, tyres, or both all depends on when the caution flies, who pits around you, and your track position.You'll probably also go a lap down when pitting under green and be trapped a lap down if a yellow comes out directly afterwards. All these factors make oval racing strategies very diverse and improvisational.
All race starts on ovals are of the rolling kind, whereas road racing sometimes features standing starts.
In NASCAR oval racing, there is a 'free pass' or commonly known as 'lucky dog' rule. This means that the first car which is a lap down when a caution flag flies, gets to go around the track and regain a lap. Lapped cars can also receive a lap back if all lead-lap cars ahead of them pit and they don't. This puts them directly behind the pace car, and they're allowed to pass it and regain their lap on the last caution flag lap.
Oval racing is much more affected by dynamic track rubber buildup than road racing. Road racing usually has a fairly defined apex in each corner, and does not vary much throughout a race. On ovals, many of the turns have a wide radius, and some are extensively banked. This allows drivers to run the outside line. Due to ovals being usually much shorter in length than their twisty counterparts, this means that many more cars go over a certain groove on the track – and often. Races can consists of over 200 laps. This means more heat transfer onto the track, as well as rubber buildup. In NASCAR stock cars, more heat and rubber usually means a lower amount of grip. This causes drivers to 'search' around the track in the corners for more grip. Some will run the inside line, others the middle, and some may dare to go up by the wall if there is enough grip up there to compensate for the longer distance traveled.
Differences in setup approach
Since oval turns go in only one direction, the car is setup to be stiffer on the right side (because a left turn shifts weight to the right). On a road course, you would generally have a balanced (symmetrical) setup since you have left and right turns. On the ovals, the car is optimized to turn left. Everything in the car is made to turn in that direction. If you try a right turn with an oval setup, the car will not turn well at all.
Difference in skills required
One of the biggest differences between road and oval is the length of the turns. Road courses put more emphasis on hitting the apex, as more turns are short in comparison to ovals. On the oval side, turns are generally divided by the drivers into entry, center, and exit. When describing handling characteristics, the car may for example behave completely different at the entry of the turn compared to the exit. Drivers have to be able to split the turns of the track into different sections, and construct their setup for each phase of the corner. The driving skills required are fairly similar, but can have some key differences. The road side is more focused on quick reflexes and precise apexing, while the oval side centers on car control and adaptability to changing track conditions.
Similarities
At the end of the day, whether road or oval, all drivers push their cars to the limit to try and beat everyone else on the track. Oval and road racing are more similar than they are different. Drivers have to find the grip limits of their respective cars, and maneuver around traffic in order to get to the checkered flag first. Many drivers can run both disciplines competitively, but few can do them at the top level. As similar as these two sides are, they still take a different mindset to compete in each, and at the core have different cultures attached to them. But with that being said, racing is racing, and a true race fan will enjoy anything on wheels that goes fast!